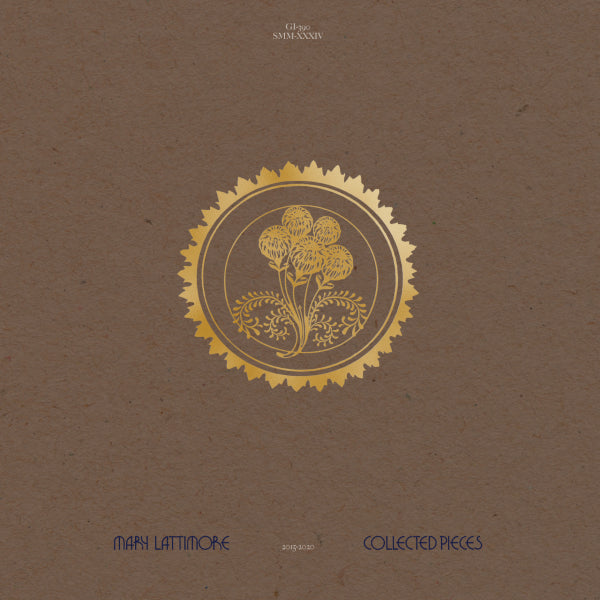 Mary Lattimore - Collected Pieces: 2015-2020 2xLP
$24.98
Label: Ghostly International
In the afterglow of her acclaimed 2020 album Silver Ladders (a year-end favorite of NPR, Pitchfork, The New Yorker, and others), Los Angeles-based harpist and composer Mary Lattimore returns with a culminating counterpart release, Collected Pieces: 2015-2020. The limited-edition LP features new and previously unreleased material, Bandcamp-only singles, and other obscurities alongside standouts from her 2017 tape Collected Pieces. Beyond the vinyl compendium, an expanded tracklist on the cassette/digital version brings more of Lattimore's archives together for the first time. Lattimore has described the process of arranging these releases as akin to "opening a box filled with memories," and here that box continues to populate, accessible for both the artist and fans. Evocative material separated by years, framed as a portrait of an instrumental storyteller who rarely pauses, recording and often sharing music as soon as it strikes her. Seemingly in constant forward motion for the last five years since her Ghostly debut, Lattimore glances back for a breath, inviting new chances to live in these fleeting moments and emotions; all the beauty, sorrow, sunshine, and darkness housed within.
A familiar harp sequence opens the set, making its first vinyl appearance is "Wawa By The Ocean," Lattimore's ode to her favorite convenience store, Wawa #700 in Ship Bottom, New Jersey. "Twelve summers of solo trips to Ship Bottom and it hasn't really changed. I'll always visit it in my dreams," Lattimore said upon its initial release, and surely that beachside landmark still appears each time this delightful pattern unfolds, hoagies and all. Next is a newer single, "We Wave From Our Boats," which she improvised after walking her neighborhood during the early days of lockdown in 2020, and shared on her Bandcamp. "I would just wave at neighbors I didn't know in a gesture of solidarity and it reminded me of how you're compelled to wave at people on the other boat when you're on a boat yourself, or on a bridge or something. The pull to wave feels very innate and natural." The heart of the track is a somber loop, over top which Lattimore's synth notes ruminate, each a gentle shimmer of optimism in the most anxious and absurd of days.
Also recorded in 2020, "What The Living Do" is inspired by Marie Howe's poem of the same name, which reflects on loss through an appreciation for the mundane messiness of being human. The echoed, slow-marching track has a distant feel to it, as if the listener is outside of it, watching life play out as a film. "Princess Nicotine (1909)" scores actual footage, a dream sequence Lattimore imagined for J. Stuart Blackton's surreal silent film Princess Nicotine; or, the Smoke Fairy. She adopted the same approach for "Polly of the Circus," explaining it was the name of one of the old silent films discovered in permafrost in the Yukon [featured in the documentary Dawson City: Frozen Time], "the only copy that survived and it kind of warped in the aging process." Unreleased track "Sleeping Deer" came together during Lattimore's artist residency on a cattle ranch in Wyoming. She remembers, "a small deer whose mother I think had been run over by a car would hang out in the yard. I called him Lollipop and would leave vegetable scraps out." Lollipop returned daily to eat, rest, and wait for more. The music this vision inspired is patient and droning, with light plucks giving way to deeper, vibrating tones, permeating with a sense of anticipation."Mary, You Were Wrong" mirrors an author's bout with a broken heart. "It's about how you have to keep on going even if you make some mistakes," she says. The bittersweet refrain cycles throughout, a little brighter every time, slowly, like the way time tends to heal.
A trove of pieces are collected here, most recorded in the moment, just Lattimore and her Lyon and Healy Concert Grand Harp, contact mics, and pedals. There's the one about the late Twin Peaks actress Margaret Lanterman ("We Just Found Out She Died"), the American astronaut's homecoming ("For Scott Kelly, Returned To Earth"), the joke about the cannibal's wife ("The Warm Shoulder"), the Charlie Chaplin-like character who lost their glasses ("Be My Four Eyes"), and the high school kids driving their shiny cars in a parking lot ("Your Glossy Camry"). Like her most affecting work, these songs showcase Lattimore's gifts as an observer, able to shape her craft around emotional frequencies and scenes. Her power as a musician is rooted in how she sees the world: in vivid detail, profoundly empathic, with deep gratitude for nature and nuance.