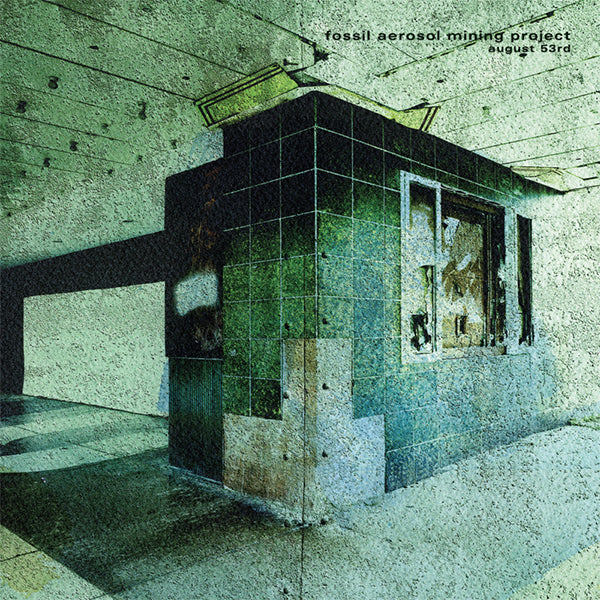 Fossil Aerosol Mining Project - August 53rd LP
$20.98
Label: Helen Scarsdale Agency
The Fossil Aerosol Mining Project continues their post-industrial dialectics through their "songs of enhanced decay and faked resurrection." This cryptic ensemble from the American Midwest has been quietly producing such works since the '80s, with a deep catalogue highlighting a uniform brilliance in the exquisite reconstruction of exhumed cassette tapes and moldering 35mm film stock.
On August 53rd, Fossil Aerosol has collaged their reclamations of found sounds into an inquisitive, dynamic cinema of the ear. The tape loops and recombinant samples create elliptical orbits and vertiginous spirals. Down-pitched, disquieting rumbles form the foundations for much of Fossil Aerosol's compositions, which mutate the fractured, crumbled, and mildewed artifacts into patterned yet shifting phrases. The result seems like hybrid, time-compressed mimicry of the evolution of our media-driven language.
The official statement from the ensemble reads as such: "This album, arranged specifically for Helen Scarsdale, might be considered a prequel to The Day 1982 Contaminated 1971, featuring the damaged remains of certain pop culture pleasantries in a less decomposed state than found on the previous vinyl release. August 53rd, a month extended to accommodate a changing climate, predates the day 1982 contaminated 1971."
Such inquiries characterize the many non/fictions that contextualize the work of Fossil Aerosol. Through the process of decoding lost melodies and dialog of the 1960s, '70s, and '80s, Fossil Aerosol intentionally or unintentionally deflates the vanity of consumerism while at the same time providing an archaeological view of contemporary culture.
These conceptual frameworks would be meaningless if Fossil Aerosol did not deliver on the aesthetics. And deliver the Project most certainly does. August 53rd harbors the rich enigmas of distressed sound collages found in the work of likeminded artists such as Philip Jeck, Felicia Atkinson, and of course Fossil Aerosol's occasional collaborators :zoviet*france:.
Noted photographer Michael Eastman (Vanishing America, Havana) contributed the artwork used for the cover of the album, specifically selecting imagery from decaying landscapes of the American Midwest.