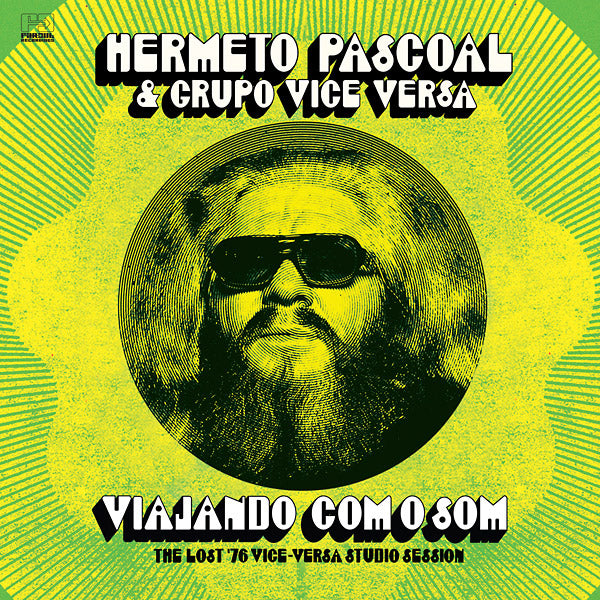 Hermeto Pascoal & Grupo Vice Versa - Viajando Com O Som: The Lost '76 Vice-Versa Studio Session LP
$23.98
Label: Far Out
Hermeto Pascoal is a true maestro and a cultural icon. He represents the highest level of musical evolution as a multi-instrumentalist, a composer, and an arranger. Once described by Miles Davis as "the most impressive musician in the world," there is good reason (beyond his Gandalf-like appearance) why he is known as "O Bruxo" ("the Wizard").
For Far Out Recordings' 200th release, the label present a previously unreleased album by Hermeto Pascoal And His Grupo Vice Versa, Viajando Com O Som, The Lost '76 Vice Versa Studio Sessions. Recorded in two days in 1976, at Rogerio Duprat's Vice Versa Studios in Sao Paulo, the sessions featured Hermeto's go-to "Paulista" rhythm section: Ze Eduardo Nazario (drums), Zeca Assumpcao (bass), and Lelo Nazario (electric piano), as well as saxophonists Mauro Senise, Raul Mascarenhas and Nivaldo Ornelas, guitarist Toninho Horta and vocalist Aleuda Chaves. Hermeto decided he would record with this particular group following a show at Teatro Bandeirantes, during which an almost spiritual musical connection amongst the group was realized. The performance lasted for hours, without any breaks, and Hermeto saw the potential for his compositions to reach a "higher level" as the music organically moved from structured compositions to "freer" improvisational works.
In the studio, the sound engineer Renato Viola understood that things needed to happen quickly. Almost everything recorded on the first take ended up staying in the final mix. After the mixdown, Lelo Nazario would ask Renato to make him a copy of all the material. Supposedly, the master tape was lost, but Lelo kept his copy in his studio's archives, where it stayed for over forty years. With the tape rescued and restored, this release fills a void in time. Recorded at an especially experimental period in Hermeto's career, it's a compelling insight into the incredible efforts of this group, who created a unique musical language which would have a profound influence on countless artists to come.
The 1970s are considered a golden age of Brazilian music, but it's often forgotten how desperately hard it was for artists to get their music past the military dictatorship's censorship efforts. Yet in 1976, despite the often musically radical nature of Hermeto Pascoal's compositions, he was typically productive. The release of Viajando Com O Som re-writes the already remarkable story of one of the world's most supernaturally talented musicians.