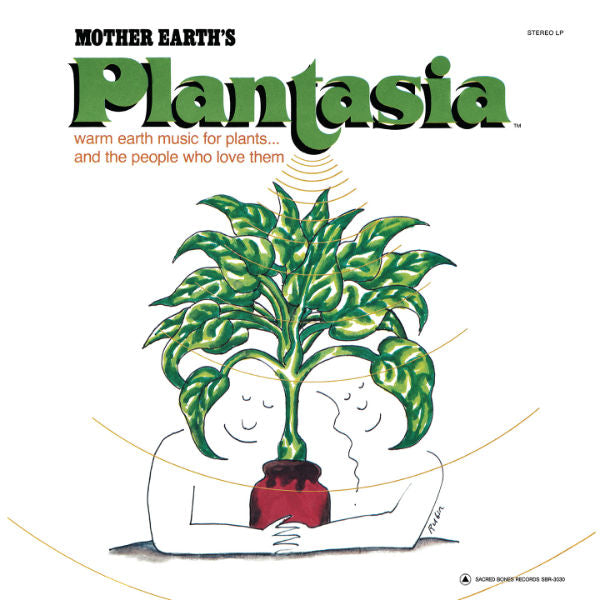 Mort Garson - Mother Earth's Plantasia LP
$20.98
Label: Sacred Bones
If you purchased a snake plant, asparagus fern, peace lily, or what have you from Mother Earth on Melrose Avenue in Los Angeles (or bought a Simmons mattress from Sears) in 1976, you also took home Plantasia, an album recorded especially for plants. Subtitled "warm earth music for plants… and the people that love them," it was full of bucolic, charming, stoner-friendly, decidedly unscientific tunes enacted on the new-fangled device called the Moog. Few characters in early electronic music can be both fearless pioneers and cheesy trend-chasers, but Garson embraced both extremes, and has been unheralded as a result. When one writer rhetorically asked: "How was Garson's music so ubiquitous while the man remained so under the radar?" the answer was simple.
Well before Brian Eno did it, Garson was making discreet music, both the man and his music as inconspicuous as a Chlorophytum comosum. Julliard-educated and active as a session player in the post-war era, Garson wrote lounge hits, scored plush arrangements for Doris Day, and garlanded weeping countrypolitan strings around Glen Campbell's "By the Time I Get to Phoenix."
But as his daughter Day Darmet recalls: "When my dad found the synthesizer, he realized he didn't want to do pop music anymore." Garson encountered Robert Moog and his new device at the Audio Engineering Society's West Coast convention in 1967 and immediately began tinkering with the device. "My mom had a lot of plants," Darmet says. "She didn't believe in organized religion, she believed the earth was the best thing in the whole world. Whatever created us was incredible." And she also knew when her husband had a good song. Novel as it might seem, Plantasia is simply full of good tunes.
This release marks the first official re-issue of the long sought-after cult classic. Hearing Plantasia in the 21st century, it seems less an ode to our photosynthesizing friends by Garson and more an homage to his wife, the one with the green thumb that made everything flower around him. "My dad would be totally pleased to know that people are really interested in this music that had no popularity at the time," Darmet says of Plantasia's new renaissance. "He would be fascinated by the fact that people are finally understanding and appreciating this part of his musical career that he got no admiration for back then." Garson seems to be everywhere again, even if he's not really noticed, just like a houseplant.